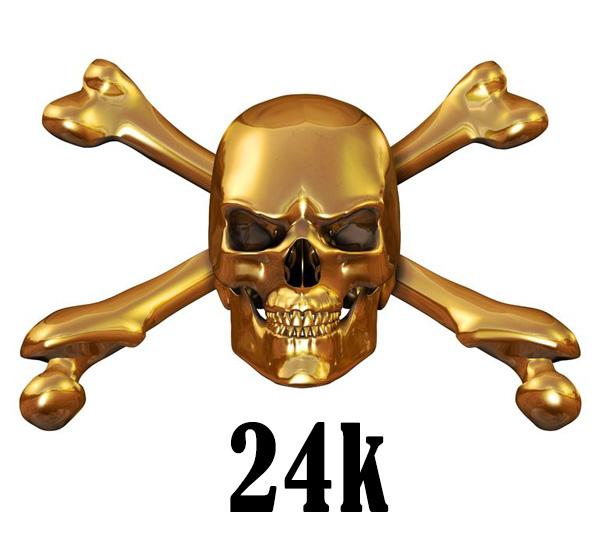 Partly gold plating is available for only some of our products. You should find information...
more
"Partly 24K Gold Plating For One Product"
Partly gold plating is available for only some of our products. You should find information about which parts of the item will be gold plated and which won't in the description of the regarding product. In same cases you will also find an image of a partly gold plated version amongst the pictures of the product. If have a special idea about which parts should be gold plated, just leave us a comment at the final step of your checkout.
Most of our products can be ordered in a completely gold plated version. We are using a Jentner Goldplating bath for creating a high quality gold plating.
Nevertheless: Please acknowledge that there is no guarantee for how long this gold plating will last and especially not for scratches or falling-damages or anything like that.
Here are the most important facts about gold plating:
Buy this accessory article and we will do a 24k partly gold plating for one ring or pendant
You can not return individualized products like gold plated rings. In special cases we can grant a return, but even then we can not refund the cost for the gold plating. So be sure to order the correct size for a ring when you order it gold plated!
Gold plating will take between one and two weeks.
Do only order a gold plating option when it is given as accessory article for the ring that you want to have gold plated. If the option is not given for a ring, we can't do a gold plating (or only at additional cost - contact us if you need that!)
If you order more than one item together with individualizations like size adjustments or gold plating options, please use the comment field shown in the last step of the checkout process to tell us exactly which ring you want to be resized and wich one should be completely / partly gold plated.
If you want to buy more than one gold plated product, please buy this accessory product as often as you need a gold plating. It is for one ring only.
Never polish a gold plated product - clean it only very carefully, without using any acids or polishing fluids
Do not wear gold plated rings inside of gloves
Do not clean gold plated items in any kind of electric devices
Read, write and discuss reviews...
more
Customer evaluation for "Partly 24K Gold Plating For One Product"
Write an evaluation
Evaluations will be activated after verification. Your e-mail address will not be visible to anyone. We only use it for a double opt-in to protect our system from spam entries.
Order save and easy!
Orders placed until 14:00 p.m. will be dispatched this same day (unless you ordered items that will be made to order)
Reliable worldwide shipping - always with insurance!
Hassle-free returns, no questions asked!
Support via e-mail or phone!
Several secure payment options:
Bank transfer
PayPal
Amazon Payments
Credit card
Debit card